Solar panel façades
Solar architecture and the installation of building-integrated photovoltaics (or BIPV) is becoming more and more important. Solarwall is your partner for stunning solar façades: we provide access to a wide range of colours, shapes and designs so that you can create truly aesthetic buildings. Solar cladding on buildings makes a real statement – both in terms of sustainability and design.
Regardless of whether the project concerns a new build or a refurbishment of an existing building, each project demands its own unique solution. Solarwall is here to assist you on your journey from planning to implementation.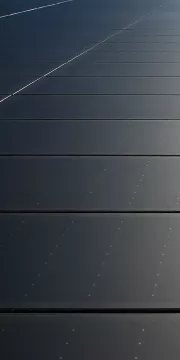 Solar panel façades
Vertical solar façades are distinguished by their extremely efficient and consistent energy generation in winter – precisely the time of year when more electricity is required. Solarwall knows the market inside out and can offer expert advice when it comes to choosing the size, colour, efficiency and levels of transparency of the PV modules, as well as other specifications. And all of our advice is completely impartial. We are not tied to any specific manufacturer or technology. This means that you can look forward to the very best support in terms of integrating the photovoltaic systems and design flexibility.
Photovoltaic overhead glazing
Unlike the conventional rooftop installation of solar panels, in which the solar panels are installed onto the existing building shell, the photovoltaic glass roof is an integral part of the building, forming the "fifth façade". A wide range of glass colours and models mean that you can create an ideal flow of light into the building or even views of the sky, while the photovoltaic system fits seamlessly into the building's overall design. Solarwall will help you find out which types of products are relevant for your specific project.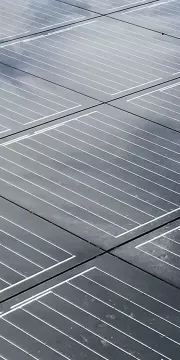 Photovoltaic floors
Ground-mounted solar panels are the building-integrated photovoltaic system for horizontal surfaces, such as walkways, forecourts, roof terraces and foyers. The floor panels are not just non-slip and scratch-resistant, they also come in a wide range of colours and designs. We are happy to assist when it comes to choosing and evaluating the different photovoltaic floor models available for your project.
Renovations and refurbishments
Renovating a building is a good opportunity to improve its energy efficiency and to integrate photovoltaic systems. In some cases, the historical look of the building needs to be preserved in order to retain its artistic and cultural heritage.
Solarwall can help you design a multipurpose solution that both protects the original look of the building while also improving its sustainability through the generation of renewable energy.
Which projects are building-integrated photovoltaics relevant for?

In principle, photovoltaic systems are suitable for all new builds and renovations of existing buildings. The aim is to align the energy goals with the project scope. Solar solutions must always be viewed and weighed up with long-term use in mind.
How are solar façades affixed to the building?

The installation technologies are based on tried-and-tested systems that are well-known and commonly used within the building trade. These are fully developed solutions that provide a high degree of safety and longevity.